Affordable Fashion For The Normal World: Week 2
My obsession with Fashion, and well… better yet affordable fashion continues this week as I spent the weekend searching for new affordable yet fashionable apparel. As I explained last week, I usually shop till my eyes bleed diamonds. This years fashion trends are amazing, and simply eye orgasmic causing me lots of diamond tears. Today we will be discussing Revolve Clothing as well as JollyChic. Revolve Clothing is sort of an online mall as it carries well over 400 different clothing brands. I was lucky enough to catch the 50% off sale this weekend that actually continues for the next two weeks!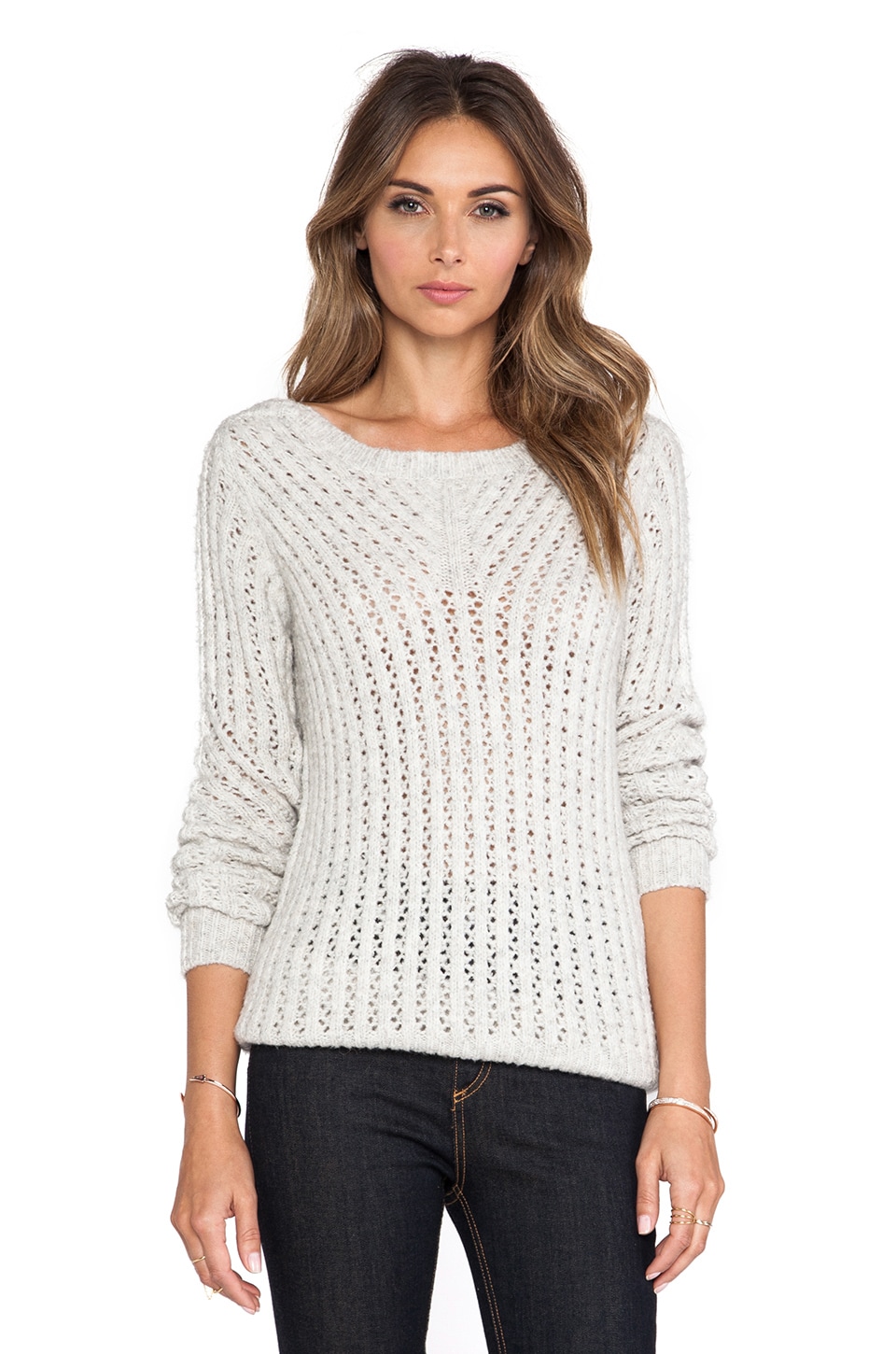 Wicker Sweater
My first purchase this weekend was this awesome Pullover sweater by John Muscat and Jennifer Wells. Taking the basic ideas from style essentials, John Muscat and Jennifer Wells exploits his creativity in designing practical knitwear that appeals to luxurious taste. From their infamous wrap cardigans to sexy beaded mini dresses, Muscat and Wells pushes the boundaries in knits. With flattering lines and carefully crafted cuts and details, Line evokes sophistication and confidence through comfort and ease. This item I am the most anxious to receive because I am huge fan of these two. This of course is another affordable yet luxurious item.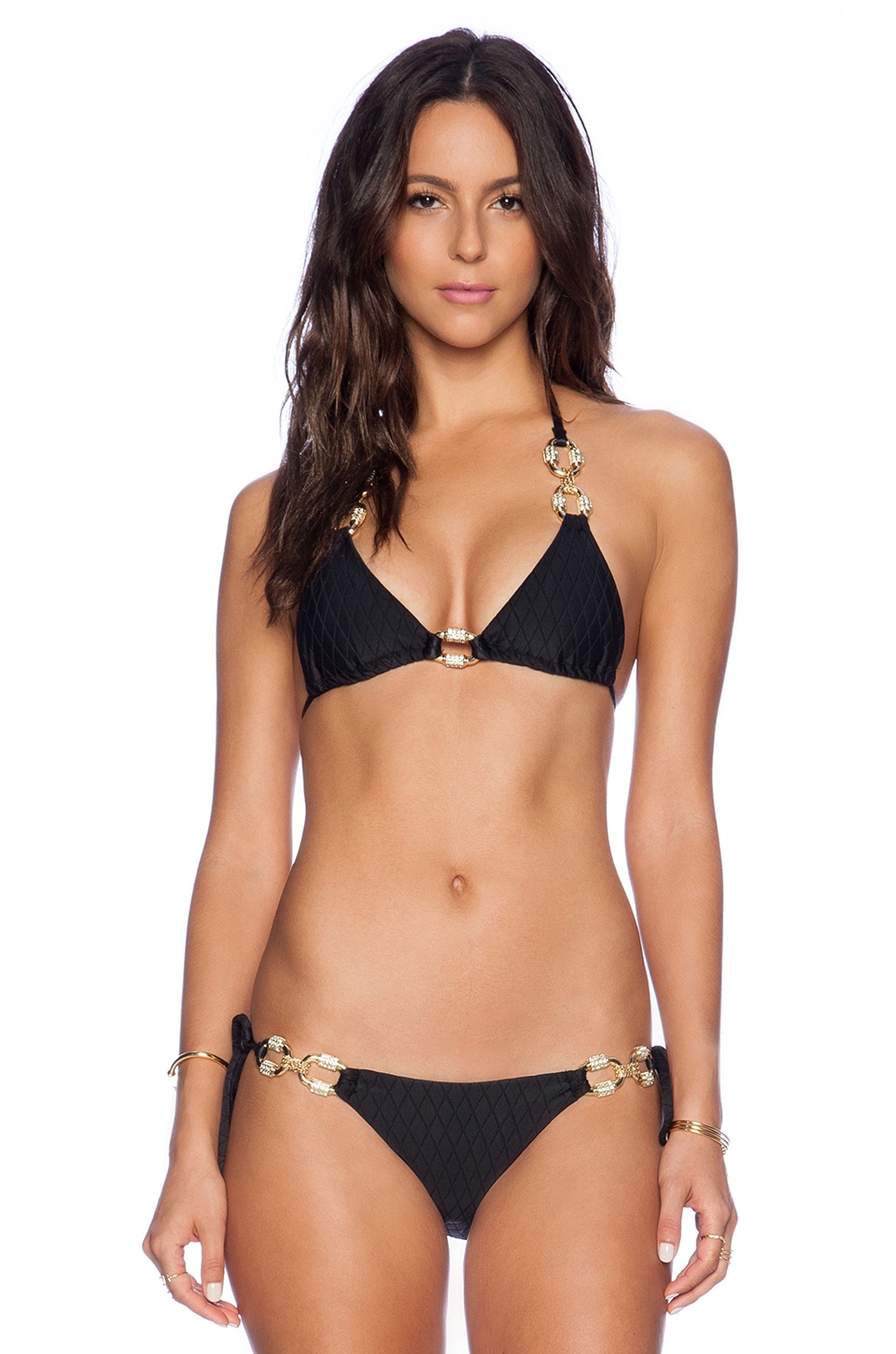 Black Diamond Bikini Top
Next I had to shop for a bathing suit, something I totally forgot to buy for the summer this year. I picked this bathing suite because I loved the Gold tone rhinestone encrusted chain link accents that it had. Beach Bunny swim offer a variety of mix-and-match styles for a unique, beach ready look. Lace, chain, and ruching details combined with comfy fabrics make for an undeniably flirty, figure flattering look. These swimsuits are all amazing, and they definitely are fitting for this years summer trends.!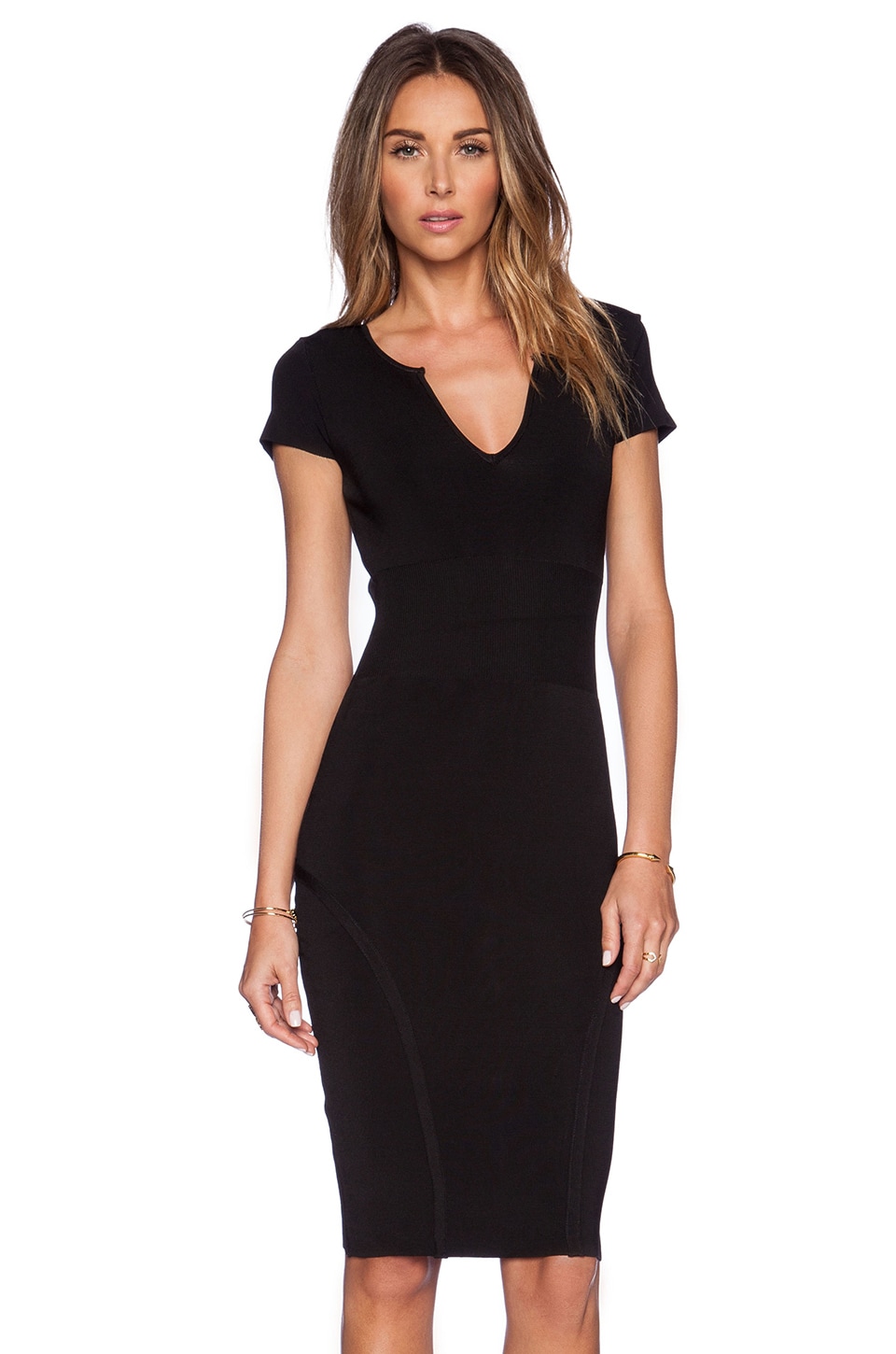 Kaya Contour Dress
 The next item that I needed to shop for was a Dress for an upcoming Black Tie Charity Event I was planning on attending. For this outfit I ended up spending a little more than I had originally planned, but it was because I fell in love with this dress. This dress was still under $200 which was surprising because it was designed by MLV. MLV stems from a European inspired philosophy "Maison LA Vie". It's an LA-based, contemporary brand that combines American ambition and aesthetic with European design sensibility and superior fabrication. The result is a collection of body-hugging, eye-popping designs and beautiful, sequined pieces that are to die for. I seriously can't wait for this dress to arrive!
I soon realized that my paycheck was almost spent up, so I checked out JollyChic, for those of you who are not familiar with this website, JollyChic is where you go when you're looking for good quality clothing at cheap prices. Seriously you can get a stunning dress that looks like it's $1,000 for only $25.


Jollychic Sexy Cross Braid Slimming High Waist Sleeveless Jumpsuit
My first purchase over at JollyChic was this stunning Sleeveless Jumpsuit. I bought it because it reminded me of the one that Jackie Gillies wore on the Real Housewives of Melbourne. Now all I need is to get a body like this girls! This item will be my motivation at the gym for now on! Must look sexy!
Jollychic Trendy V Neck Sleeveless Solid Black Jumpsuit
I had one final purchase to make this weekend, and that was this Sleeveless Black Jumpsuit. I needed something for a night out with my girlfriends, and this was my first pick. Not only is it under $30 dollars but I also loved the semi-sheer idea that Ruching including while styling this outfit along with its v neckline and wide legs.
Thats all for this week! See you all next week for more Affordable Fashion!
Tamra Judge Goes To Philly To Support Shannon Beador; Claps Back At Haters For Judging Her Decision Following Eddie's Health Scare! – The Real Housewives
Tamra Judge Goes To Philly To Support Shannon Beador; Claps Back At Haters For Judging Her Decision Following Eddie's Health Scare! – The Real Housewives
Tamra Judge of The Real Housewives of Orange County, is overall healthy. She owns a fitness gym even, with her husband Eddie Judge. The two workout and train together all of the time. However; he has a heart condition. Recently Tamra has been sharing about it on social media with fans.
According to The Daily Dish, Tamra Judge's husband, Eddie Judge, underwent his fourth heart procedure in four months earlier this week. Tamra has been sharing updates on his health conditions on social media. Eddie underwent a cardioversion, which is a procedure that restores a normal heart rhythm in people with abnormal heartbeats, which is known as arrhythmias.
She recently went to support her fellow co-star, Shannon Beador, at her QVC launch in Philly. This was following Eddie's procedure, but she still got backlash.
This led to some haters on social media, blasting Tamra for going to be with Shannon instead of being with her husband. Tamra clapped back on Instagram, "To all the —holes that are judging me for going to Philadelphia to support Shannon. Kiss my ass! Eddie is doing fine and working just like I am right now. There is no down time with cardioversion or overnight stay in the hospital. So get your facts straight, get a life and stop judging mine."
Tamra got past the negative feedback and was feeling inspired being on the iconic steps from the film 'Rocky.' She captioned her photo, "Let me tell you something you already know. The world ain't all sunshine and rainbows. It's a very mean and nasty place, and I don't care how tough you are, it will beat you to your knees and keep you there permanently if you let it. You, me, or nobody is gonna hit as hard as life." Rocky~ #byephilly"
I think it's great that Tamra is so open and I hope her husband feels better soon! I personally don't see any problem with her going to Philly to be with Shannon, since her husband was fine and back at work. I think it's sweet that she wanted to support Shannon. It's great to see these two RHOC stars getting along!
Should Tamra have stayed with her husband or supported her friend? Thoughts on the friendship between Tamra and Shannon? What do you want to see next season on RHOC? Sound off below!
Gretchen Rossi Slams Rumors She's Had A Boob Job! – The Real Housewives
Gretchen Rossi Slams Rumors She's Had A Boob Job! – The Real Housewives
Gretchen Rossi recently reappeared on the scene looking a little more busty which quickly spurred rumors that the former Real Housewives of Orange County star had either gotten a boob job or gained a whole bunch of weight.
However, Gretchen is now squashing those rumors, telling TMZ that she has not gone under the knife but has gained a couple of pounds.
Gretchen explains that her boobs look bigger thanks to her $50 boob-job bra and the fact that she has gained weight due to hormone shots for IVF treatment.
Check out a clip of Gretchen explaining it all below!
I'm not worried about Gretchen's enhanced looking boobs I'm more concerned about what she did to her. Gretchen's face looks so plastic and overly done – she's definitely channeling Kim Zolciak. Gretchen needs to stay away from the Botox and fillers.
Thoughts on rumors that Gretchen has had a boob job? Do you think Gretchen looks different? Sound off below!
Danielle Staub Is Planning A Destination Wedding For RHONJ – The Real Housewives
Danielle Staub Is Planning A Destination Wedding For RHONJ – The Real Housewives
There's nothing Bravo fans love more than a Real Housewives wedding and now we have something HUGE to celebrate about!
Danielle Staub's upcoming wedding to Marty Caffrey will be filmed for season 9 of the Real Housewives of New Jersey!
"They're getting married May 5 on Bimini Island," an insider told Page Six. "Bravo cameras will film it."
Previously we reported that Danielle was planning on getting married in Summer when her daughters, Jillian and Christine, were off from school and that the RHONJ couple was looking at a tropical destination wedding in St.Thomas.
However, another source tells Page Six that Danielle pushed up the wedding so she could demand a bigger paycheck from RHONJ for season 9.
As we all know Danielle's engagement was filmed for season 8 of RHONJ but the footage was cut from the season and only aired during an RHONJ special.
No official word on if Danielle will be a full-time Housewife for season 9. Our sources say Danielle will remain a friend of the Housewives but will have a big role in season 9 as she did during season 8.
Thoughts on this RHONJ rumor? Do you think we will see Danielle and Marty's wedding on RHONJ? Will Danielle be full-time for season 9? Does Danielle deserve to be full-time on RHONJ? Sound off below!