Five of the World's Most Haunted Places Ever
Halloween might be over, but for us horror fanatics the scaring never ends! Recently I have been on a search for the most haunted places in the world. It's not just America that has haunted places, but rather the entire world is full of frightening adventures. Some of these you may have heard about, however most of them you probably have not!
The World's Most Haunted Prison
The last place that anyone wants to spend their final days at is the Alcatraz Prison, to say that some prisoners never leave would be more than an understatement. While many "Haunted Places" capitalize on their history, Alcatraz is one of them that doesn't.
On May 2, 1946 what would be called the Battle of Alcatraz occurred. Six prisoners attempted to escape the inescapable prison. However after realizing they missed one big detail… the key to the recreational yard, the prisoners began to take hostages in hopes of their freedom.
The stood tall for 48 hours, ending the lives of 2 correctional officers and injuring anyone in their paths. 3 of the escapes were shot and killed while the remaining spent the rest of their lives in a cell. Fast forward to current day, and the screams of these escapes are still heard in the dark corners of Alcatraz.
These aren't the only ghosts lurking in the shadows of Alcatraz. Al Capone can be heard playing his banjo late at night, despite dying a long time ago. The most haunted area in the prison however remains to be D-Block, the same area that the infamous Battle of Alcatraz occurred.
A prisoner who was locked in cell 14-D recently was heard screaming that someone else was occupying his cell. The correction officers would soon find out that he wasn't lying when they found his dead corpse.
Strangulation marks were found around his neck, and the scariest part was that the prisoner's death didn't stop him from attending roll call that night… or so they prison officers claim!
Island of the Dolls
If you ever find yourself on a boat in Mexico City, it's worth checking out Isla de las Munecas (Island of the Dolls.) While this may seem like Chucky's playhouse considering the vast amounts of dolls, locals find this to be one of the most haunted areas in Latin America. In fact the locals actually refused to go to this island, despite tourists desires, the locals feared for their lives and no amount of money would change their minds.
Thousands of mutilated dolls hang around this island, tied to trees or lying on the floors. Eyeless skulls, filled with maggots and flies… a sight that would give even the biggest horror fanatic nightmares. More than 50 years ago the island's caretaker Julian Santana Barrera found a drowned girl floating down the coast, with of course her doll by her side.
Later that night Barrera heard the laughter, and then screams of a little girl, who he believed to be that of the dead girls spirit that he just found. Attempting to please the ghost he hung a doll from a tree, however after the screams did not stop he continued to hang more and more dolls around the island.
In time Barrera started to believe that all of the dolls soon became possessed and realized that it was the little girl haunted him, but rather the whole island was possessed. Many tourist claim that they have seen the dolls come to life at night, opening and closing their eyes along with screaming.
In 2001 Barrera's body was found drowned in the very same spot that he had found the little girls many many years ago. Local's believe that Barrera now haunts the island as well.
The Amityville Horror House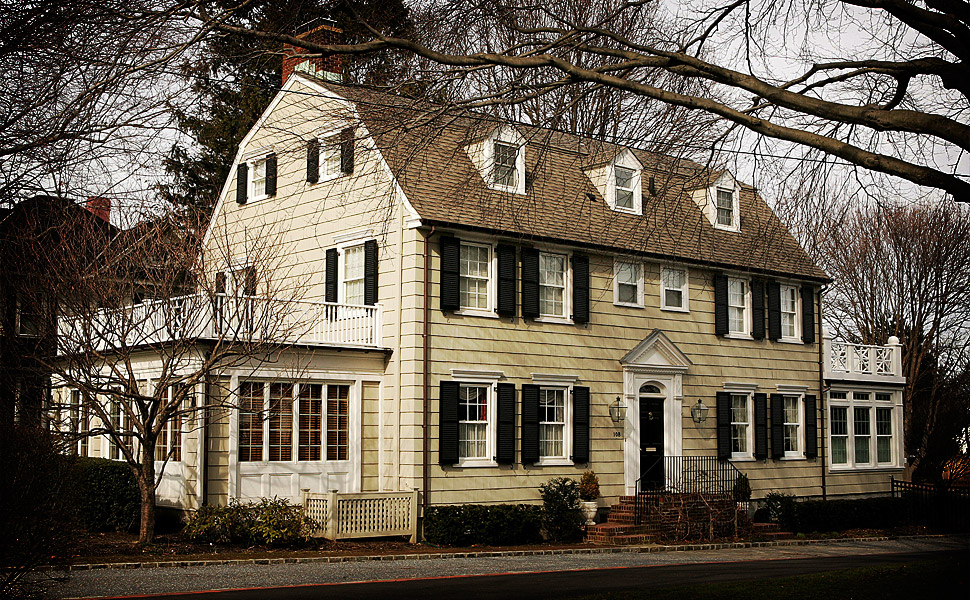 Out on Long Island, New York you can find the house that inspired the movie "The Amityville Horror" and its numerous sequels that followed. On November 13th, 1974 Ronald DeFeo Jr. slaughtered the remaining six members of his family. A year later a newlywed couple George and Kathy Lutz purchased this murder house, because well its cheap price outweighed its creepy past.
Immediately after moving in the couple and their three children began experiencing terrifying events. They claimed to have seen such things as red eyes in the windows, swarms of random flies, ooze seeping through the walls, and a sepulchral voice yelling for them to leave the house if they knew what was good for them.
Since then theories have been presented as to exactly why Ronald DeFeo Jr. slaughtered his family, mostly pointing to the fact that the house possessed him. The house was built on an ancient Indian Burial Ground, and many believe that this is the reason the house become so haunted.
DeFeo pleaded insanity, and claimed that the house possessed him to kill his family. 28 days after the Lutz family moved into the murder house, they left leaving all of their belongings behind. While many people dispute the claims that they house is indeed haunted, up until their deaths the Lutz family claimed that consider the walls where oozing it most certainly is haunted by something!
The Most Haunted Ship (Queen Mary)
Houses and prisons aren't the only thing that ghost's spend eternity wandering around, just ask John Smith who is a marine engineer who decided to roam around the ship Queen Mary. Smith claims that while wondering around Queen Mary late at night, he heard screaming in the stairwells and the should of water rushing through the ship.
In 1942 when the ship was used in World War II it crashed into its companion vessel HMS Curacao. The Curacao was split into two, killed all 338 men on board. While an 80 year old ship probably should have weird sounds coming from it, with a reported 49 deaths on it following this crashing… its safe to say that this may just be drenched with evil spirits.
Room B-340 is probably the most haunted area on the ship, and it should be considering that an entire family was murdered in that very room. The most famous ghost lurking around Queen Mary, is located on the former first class pool area.  A little girl can be seen playing and talking late at night, and its rumored that Little Jackie is still searching for her mother. Seriously you can find her voice talking to people on Youtube, it's pretty damn scary.
There are around 10 other famous ghosts that can be see haunting this ship, so it really shouldn't come as a surprise that this ship has become a haunted museum. Why these spirits have never left the ship, well we may never know.
Suicide Paradise and the Writers Building
On May 7th, 2015 a subway came to an emergency stop after its motorman believed to have seen a man walking around the tracks. However after authorities searched the area, no man was found in sight. What soon became known as Suicide Paradise, due to the massive amount of suicide there, the Rabindra Sadan subway station is on of the most haunted places in India.
This isn't the only frightening place in West Bengal, India. Enter 'The Writer's Building,' which was formerly home to the British East India Company's admin staff. In 1930 three Indian freedom fighters shot and killed Lieutenant Colonel N.S Simpson, who was known for torturing his prisoners.
While Simpson's ghost may not haunt this building, the victims that he tortured sure do. Screams can be heard during the dead of night, while Simpson's wife can be seen roaming the halls (her ghost of course.)
State-Sanctioned Murder: North Korea Killed Otto Warmbier
State-Sanctioned Murder: North Korea Killed Otto Warmbier
The Kim regime likely released the American student so he wouldn't die on North Korean soil. Now they need to pay for killing an American—and be convinced they can't kill more.
North Korea killed Otto Warmbier, and that must affect U.S. policy toward both the Kim regime and its enablers, most notably China.
The 22-year-old American student, who arrived in Cincinnati on a medevac flight June 13 after being held captive in North Korea since January 2016, died Monday afternoon. He had been in a coma for 15 months.
The North Koreans claimed they released Warmbier on "humanitarian grounds." That, like most everything they have said on the matter, was deceptive. They let him go, in all probability, because they did not want him to die on North Korean soil.
It's unlikely their last-minute maneuver will make much difference, however. The student's death, so soon after his release, is bound to affect American policy toward the Kim regime, just as the beheading of James Foley by ISIS in August 2014 affected the Obama administration's Middle East policy.
At the moment, President Trump's attempts to disarm North Korea seem to be in abeyance, as the White House waits for Beijing to help. Whatever one thinks of that approach, Warmbier's death will add pressure on the president to act now.
Trump immediately issued a statement expressing condolences to the Warmbier family and condemning North Korea's brutality.
Those sentiments, however, are not enough. Unless the American people are willing to accept tragedies like this on a regular basis, costs need to be imposed on the Kim regime.
American diplomats had been trying for months to obtain Warmbier's release and that of three other American citizens held by Pyongyang.
The student had been prevented from leaving the North in early January 2016 after attempting to take down a propaganda poster. For the prank, he was charged with "hostile acts" and given a sentence of 15 years hard labor. His show trial took place the following March.
Pyongyang says he fell into a coma after taking a sleeping pill soon after. The North's officials also said Warmbier had contracted botulism.
Doctors at the University of Cincinnati Medical Center found no traces of botulism but did find dead brain tissue. They described his condition as "unresponsive wakefulness."
In all probability, the coma was the result of severe trauma that prevented blood flow to the brain.
In any event, North Korean officials had tried to hide Warmbier's condition until June 6, when Pyongyang's U.N. ambassador disclosed the coma to Joseph Yun, the State Department's special envoy for North Korea. Yun then secured Warmbier's release after traveling to the North.
The consequences for the Kim regime now have to be far in excess of turning the State Department's travel advisory into a travel ban, as Secretary of State Rex Tillerson suggested Wednesday in testimony to the House Foreign Affairs Committee. The costs have to be so severe that no regime, North Korean or otherwise, will think of harming Americans.
Washington, of course, tries to obtain the release of detained Americans, and to do so it always seeks to avoid offending regimes like North Korea's. That usually works to free a particular individual, but the process creates incentives for future seizures of Americans. Kim Jong Un and Kim Jong Il, his predecessor and father, apparently thought taking Americans resulted in an endless stream of bargaining chips.
At some point—like now—Washington must switch its approach from rescuing individual Americans to preventing seizures in the first place.
What can be done? North Korea should once more take its place on the State Department's list of state sponsors of terrorism. No bank, including Chinese ones, involved in North Korea's various criminal activities should be allowed access to its dollar accounts in New York. The U.S. should seize all dollar accounts of enterprises proliferating ballistic missile or nuclear weapons tech, equipment, or components to the North. The U.S., using authority flowing from Pyongyang's various renunciations of the Korean War armistice, should interdict and then inspect all North Korean shipping for weapons or contraband.
Kim Jong Un continues in power because regime elements believe they are safer with him than on their own. The United States, which says it is not seeking regime change, needs to convince them they have no future if they support any regime killing Americans.
Washington, for decades, has always worried about the consequences of action on North Korea and therefore has done little. While it has done little, the Kim family has, among other things, counterfeit American currency, built nuclear weapons and ballistic missiles, and cyberattacked American businesses and institutions. And now it has felt secure enough to kill an American.
North Koreans thought it was safe to brutalize Otto Warmbier. Now is the time to make sure they never harm another American again.
Pence Hires Private Lawyer for Russia Investigation
Pence Hires Private Lawyer for Russia Investigation
Vice President Mike Pence has hired a private lawyer to represent him in the special counsel's investigation into alleged ties between the Trump campaign and Russia, the vice president's office confirmed Thursday.
Pence has retained Richard Cullen of the law firm McGuireWoods to "assist him in responding to inquiries by the special counsel," according to a statement from Pence's communications director, Jarrod Agen.
"The Vice President is focused entirely on his duties and promoting the President agenda and looks forward to a swift conclusion of this matter," Agen said.
On Friday, when asked by reporters, Pence said the hiring of a private attorney was "very routine. Very routine."
A source close to Pence said he had been interviewing lawyers for weeks to represent him. The source added that the vice president will not be spending taxpayer dollars to pay for his legal advice and representation.
Cullen's hiring was first reported by the Washington Post.
Cullen is a seasoned federal criminal attorney with experience relevant to the assignment — he has handled politically sensitive casework as special counsel to former Sen. Paul Trible (R-VA) during the Iran-Contra investigation, he is a former U.S. Attorney, and he served on the House staff for Rep. Caldwell Butler (R-VA) during the Watergate investigation.
Cullen referred all requests for comment to Pence's office.
President Donald Trump has already retained his private attorney, Marc Kasowitz, to represent him in the probe being conducted by Special Counsel Robert Mueller into the Trump campaign's alleged ties to Russians.
NBC News has confirmed that Trump is facing a criminal investigation for possible obstruction of justice in the FBI investigation.
Trump has denied that and on Thursday he attacked the probe on twitter as a "WITCH HUNT" and said the charges of collusion between his campaign and Moscow as well as obstruction of justice were "phony."
Trump's Personal Lawyer Was Just Slapped With Multiple Bar Complaints
Trump's Personal Lawyer Was Just Slapped With Multiple Bar Complaints
Donald Trump's personal lawyer Mark Kasowitz just got hit with a pair of serious ethics complaints (embedded below) by lawyers in his home state of New York and in Washington, D.C. where he is practicing law today.
Kasowitz has become famous for issuing a typo-filled, but factless defense of Donald Trump as news emerged that President Trump himself is under investigation by Special Prosecutor Mueller.
However, he isn't a member of the DC bar and seems to be advising government officials on Trump's White House staff, who themselves could become witnesses or defendants in a future criminal prosecution of the President. The New York Law Journal reports:
Campaign for Accountability, a nonprofit government watchdog group formed in 2015, filed its ethics complaint with the Washington, D.C., Office of Disciplinary Counsel, Board on Professional Responsibility on Thursday.

Separately, Neal Goldfarb, senior attorney and litigator at corporate law firm Butzel Long, lodged a complaint Tuesday with the Appellate Division, First Department, disciplinary committee in New York.
The more serious of the two complaints is with the DC bar since Trump's lawyer isn't a member, but is still practicing in the White House anyways. Lawyers can practice outside of their home states by filing what's called an application for
Lawyers can sometimes practice outside of their home states by filing what's called an application for pro hac vice admission, which lets them practice under the supervision of a member of the local bar.
But they have to make an application and declare this to the local Bar, and Kasowitz has not released any such documents publicly. The Campaign for Accountability explains that issue, and why Kasowitz's advice to White House officials not to hire counsel yet, likely violated ethics rules:
District of Columbia Professional Rule of Conduct 5.5(a) provides "a lawyer shall not practice law in a jurisdiction where doing so violates the regulation of the legal profession in that jurisdiction." Rule 4.3 prohibits lawyers from offering any unrepresented party who has a potential conflict of interest with the lawyer's own client with any advice other than that they retain counsel.

Mr. Kasowitz does not appear to be a member of the District of Columbia Bar. As a result, by meeting with White House staff within the White House complex and offering the legal opinion that those staffers need not hire counsel, he may have engaged in the unauthorized practice of law. In addition, by advising White House staff members, who are not represented by counsel and who have a reasonable possibility of having interests that conflict with those of Mr. Kasowitz's client, President Trump, Mr. Kasowitz appears to have violated Rule 4.3.
The New York complaint follows a similar legal reasoning about failing to encourage people to get their own lawyers if they're concerned about criminal charges related to their employment under Donald Trump. It adds a separate allegation that Kasowitz improperly communicated with people in the White House are represented by other lawyers.
Attorney Neil Goldfarb's complaint includes a separate allegation that Kasowitz improperly communicated with people in the White House are represented by other lawyers, violating another New York bar rule.
Now, he's brought a civil litigation lawyer from New York to DC that CNN calls a "
fish out of water
" to fight a massive FBI criminal investigation without a license.