How Candice Swanepoel Got Runway Ready for the 2018 Victoria's Secret Fashion Show
If a model wants to walk in the Victoria's Secret Fashion Show, she needs to earn her Angel wings.

Candice Swanepoel spoke to E! News about how she prepared for the big event and gave a behind-the-scenes look at one of her fittings.

The 30-year-old model has been walking in the runway show for years. She even wore the coveted Fantasy Bra in 2013, which came with a $10 million price tag. Despite all of her experience, Swanepoel admitted she still gets pre-show jitters. However, she practices deep breathing techniques to help stay calm.

"I'm a ball of nerves before the show," she said. "I feel like each year I get more and more nervous—I don't know why. But nerves are healthy. You need a little adrenaline to really kill it."

Last year's show was particularly memorable as she was secretly pregnant with her second child. The proud mama welcomed her baby boy in June.
To get runway ready this year, Swanepoel said she did about three to four workouts per week that included training with ankle weights and doing squats. Still, she noted that "just taking care of two kids will get you in shape real quick."

As for her nutrition plan, Swanepoel said she always eats healthy foods; however, she'll add in a little extra protein to build muscle before the show.
David Fisher/REX/Shutterstock
It looks like all of her preparation paid off, too. Swanepoel stunned at the runway show earlier this month as she strutted down the catwalk in two looks: One was from the Celestial Angel portion of the show. The ensemble consisted of a matching black bra and panty set, as well as a corset and black wings.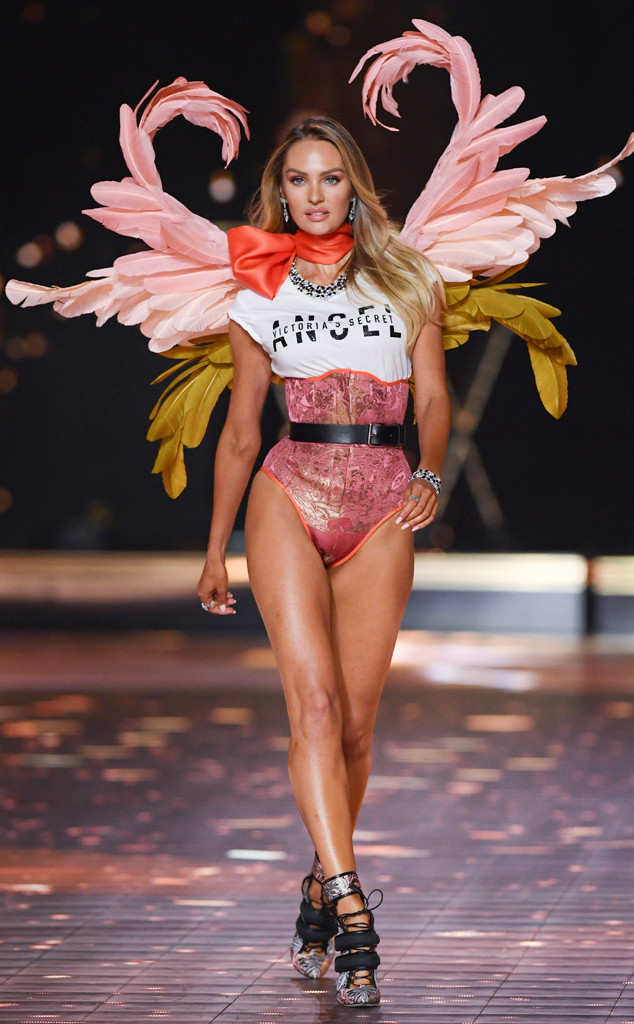 David Fisher/REX/Shutterstock
The other consisted of a high-waisted pink corset, Angel T-shirt and pink and yellow wings. The supermodel said the outfit was "one of the most comfortable looks" she's worn for Victoria's Secret and described her wings as "so feminine."

"It's almost swan-like," she said, "which is appropriate to my name."